Thank you chinesepod
Chinesepod, I have been studying mandarin for about 6 days (5 hours a day) in anticipation of a move to shanghai this coming november. I have been using Rosetta Stone for the past week at this pace and almost wanted to give up. However when I stumbled upon chinesepod, the first audio i listened to with Jenny and Ken completely re-energized my ambition. Even though the banter can be cheesy and childishly jovial, its more than appreciated and I have found such seemingly innate dialogue to have a positive impact on my studies! Cheers and I hope to hear what you have in store for me in future levels of mandarin proficiency.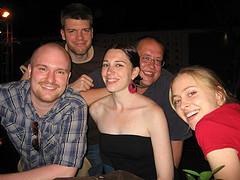 JasonSch
June 29, 2010, 04:50 PM
That's awesome to hear! Keep up the good work and keep in touch about your studies.
Oh, and don't forget that you can also stop by the offices after you've made the move! We'd love to have you.