Interesting Chinese Names used by Laowai Survey
Taking my inspiration from Xiaophil's great post today I thought it would be worth looking at the reverse situation....interesting Chinese names adopted by laowai.I mean we've all seen the examples of laowai using hanzi they're unfamiliar with in tatoo's,but how about adopted Chinese names? Any interesting examples?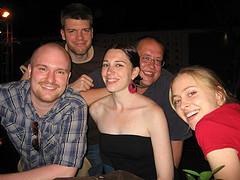 JasonSch
February 18, 2010, 05:48 AM
My Chinese name is 舒介生, but given that I have a shaved head, I often get called and/or described as a 光头. Eventually, I started sometimes telling people that my Chinese name was 舒光头. That always gets a laugh. ('comfortable baldy')

xiaophil
February 18, 2010, 05:54 AM
An American of Chinese ancestry once insisted I need a Chinese name. At first he suggest 白飞 as 白 sort of sounds like my surname (with imagination) and 飞 sounds a tad like Phil. I told him, it sounds like 'flew in vain' as 白 often means to do sth in vain. He pondered for a moment, and then said, "I know! 白飞侠!" This is the Chinese name I most often introduce myself with, but it is a bit ridiculous. It means 'the white flying hero'. Young Chinese tend to like it. Older Chinese are split down the middle. Whatever the case may be, it isn't a real Chinese name.
My other Chinese name that most of them use is 飞利浦, which is the Chinese name for Philips Electronics.

xiaophil
I'm not exactly sure what you are referring to. I guess I'm not altogether updated on the QW tip.
orangina
I meant that in the American retelling of knight-errant lore the cowboy with the white hat is clearly the good guy and the cowboy with the black hat is clearly bad (or good, but bad-a**.)
But the distinction is not so clear in Chinese, since white signifies death, but black signifies a bad heart:
中国人不太喜欢白色的。
Chinese people don't like the color white much.
因为白色会让人想到死亡。我们在葬礼上经常看到白色。
It's because white will make people think of death. At funerals we often see a lot of white.
白色的帽子,老人看了很不喜欢。
As for white hats, old people don't like to see them.
黑心
callous heart
orangina
February 18, 2010, 06:17 AM
So in light of our recent QingWen lessons... Is 白飞侠 the good knight, or the bad one?